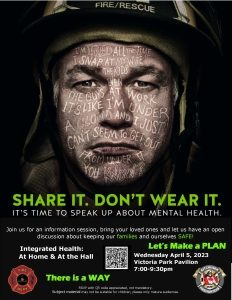 Greetings Brothers and Sisters,

On behalf of the KFD CIS/Peer Support team, I'd like to invite you to our upcoming Family Night.  Please see the attached invite for details.  An invitation has been mailed to you and your family as well.
Information regarding Occupational Stress is becoming more common place in our profession, however this information sometimes doesn't make it home to our families.  This evening information session is designed to bridge this gap to inform you and your family the resources available, along with recognition and management techniques of occupational stress.

We hope that you and a loved one (partner, spouse, family member) can join us on this evening.  We have several speakers, along with community support groups present to share extremely valuable information regarding mental health, and occupational stress.
For those unable to attend, information on possible live stream and/or recorded video coming soon.
We look forward to seeing you there!
With thanks,
KFD CIS/Peer Support Team
RSVP appreciated, however not mandatory
***Mature audience only please***